Sea Life Comes to Your

Shore in Los Cabos
Long before thousands of tourists arrived daily to take advantage of the treasures of Los Cabos, the southern end of Baja California was a favorite gathering spot for another kind of of life seeking to enjoy the area's riches.

Marine life has teemed at the spot where the Pacific Ocean meets the Sea of Cortez for thousands of years if not longer.
Still today, when visitors step outside of their all-inclusive resorts, they are just as likely to see a variety of sea life in the ocean or shore as they are a New York couple walking arm and arm.
And while there is marine life everywhere in Los Cabos, you still need to know what you are looking for or at. Not all marine life in Los Cabos behaves as you might think. Here are five of the most popular forms of sea life that you are likely to encounter on your next visit.

Manta Ray Mayhem

Manta Rays, cousins of sting rays, are among the most common swimmers to be seen in the waters off of Los Cabos. They can grow to giant proportions – up to seven meters – and can be seen swimming alone or in groups of several dozen.

Though you may encounter Manta Rays on a snorkeling or diving trip, you could be minding your own business sunbathing or swimming when these majestic creatures make their presence known. That's because the Manta Rays of Los Cabos have been known to breach the surface of the ocean and take off as high as five to ten feet in the air.

Although it is unknown exactly why they exhibit this behavior – cleaning themselves of parasites of leaping to gulp plankton are two theories – what is certain is that it is a sight you will never forget as they seemingly take turns bounding into the air in a form of synchronized swimming.

Seal of Approval

Most of the sea life in Los Cabos is friendly and nonconfrontational, but when it comes time to a welcoming personality, the seals of Baja California may be the most memorable. The seals are often noisy, always curious, and occasionally mischievous.The marina of Cabo San Lucas usually has a seal on display, clapping its flippers and barking to the delight of visitors (and annoyance of locals), but the real show comes just next to the world-famous Cabo Arch where they bask and frolic on rocks for everyone to see.

On the way back in to the marina, after a tour or voyage, make sure to keep your eyes peeled for brazen seals who jump on the back of incoming boats as they look to snatch a fish or get a free meal.

Gentle Giants with Scary Name

Shark attacks just don't happen in Los Cabos, even if the area does host the largest shark – and fish – in the world: the whale shark. Despite its imposing size, whale sharks are among the most docile of all marine life.

The slow moving giants are a big attraction in the Sea of Cortez as divers and snorkelers can swim alongside them. Although they have up to 3,000 teeth, they are all less than 6 millimeters long and are not used to chew – they are filter feeders.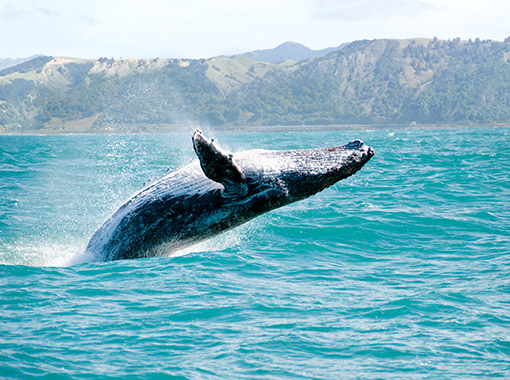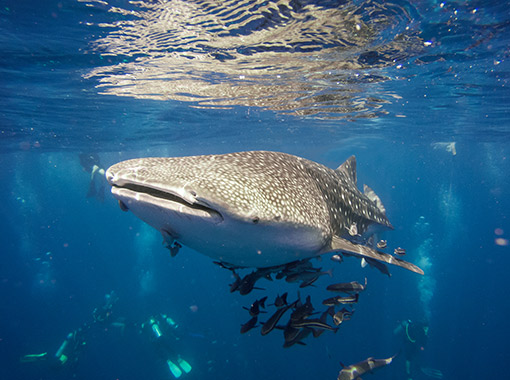 Out of Their Shells

A magical summer night stroll along the beach in front of Le Blanc Spa Resort Los Cabos can be made even more special when you come upon nesting sea turtles. A variety of endangered species of sea turtles hatch on the shores of Los Cabos and make their way back to the sea.

If you are lucky enough to come upon one, enjoy the site, but don't disturb or attempt to handle them. They know what they are doing!

A Whale of a Time

From November to April, a variety of whales – humpbacks, gray whales, blue whales, sperm whales, and even orcas – frolic in the waters at the tip of Baja California. The whales migrate each year from the north looking for the warmer waters off of Los Cabos and seem to celebrate with breaching to the delight of onlookers.

Although there are a variety of whale watching tours, you are just as likely to see them breaching and expelling water from their blowholes from resorts like Le Blanc Spa Resort Los Cabos. Take in the sight of one of the largest and most intelligent creatures in the world. If they make a yearly trip to Los Cabos, you know its worth your time as well.