Amazing Waterfalls

of Ocho Rios

Despite Name, Ocho Rios is All About Waterfalls
Ocho Rios is a town whose name should be "The Waterfalls." And it kind of is. Kind of. You see, the English are responsible for giving Ocho Rios its Spanish name, which translates to "Eight Rivers." Only there aren't eight rivers in Ocho Rios. Stay with us.

The name came to be when the English managed to botch a translation in a historical quirk after defeating the Spanish in the Battle of Las Chorreras, which means, you guessed it, Bay of Waterfalls. So, despite winning the battle they lost the war on language when they heard Las Chorreras, but translated it to Ocho Rios – where was Hooked on Phonics when you needed it!

Fitting name or not, Ocho Rios still boasts an assortment of the most beautiful waterfalls on the planet, all within close proximity to where Christopher Columbus is believed to have first set foot in Jamaica in 15th century. From waterfalls emptying into picturesque Caribbean beaches and others that lead to swimming holes befitting of romance novels, the array of waterfalls in Ocho Rios is as staggering as it is beautiful. And when you visit, the following should definitely be on your to explore list.
From waterfalls emptying into picturesque Caribbean beaches and others that lead to swimming holes befitting of romance novels, the array of waterfalls in Ocho Rios is as staggering as it is beautiful.
Dunn's River Falls
By far the most popular of Ocho Rios' renowned waterfalls, Dunn's River Falls is the waterfall that gave the town its name, even if by way of bad English translation. Its popularity likely means that the falls will be crowded when you visit, but the spectacle is nevertheless breathtaking. Climbing up the rushing waters is exhilarating and unforgettable. Think of hiking up a gigantic hill of tufa (limestone) terraces resembling ski moguls, except replace the snow with water. The falls are about 180 feet high and take about an hour to climb with a tour guide. If you follow the Dunn's River all the way down to the Caribbean, you will come upon Little Dunn's River Falls that empties into the sea at the aptly named Little Dunn's River Beach.

How to get there: Just west of Ocho Rios, Dunn's River Falls is a five-minute drive on land. You can also arrive by water from tours that leave from many Ocho Rios resorts, including Moon Palace Jamaica.

Island Gully Falls/Blue Hole Falls
Observing a majestic waterfall is one thing, but getting under it or, better yet, plunging off of it, is the real fun. That is why Island Gully Falls, formerly known as Blue Hole, may be the best Ocho Rios has to offer. A variety of launch points abound, but listen to the advice of your tour guide to know where you should jump. The falls cut a swath through mountainous rock and empty into a mesmerizingly vibrant aqua pool more reminiscent of the best Caribbean waters than a lagoon.

How to get there: About 20 minutes drive west from Ocho Rios and inland, the waterfall can be reached via tour guides or private taxi. There are a variety of activities available including rope swings, photo opportunities, and more.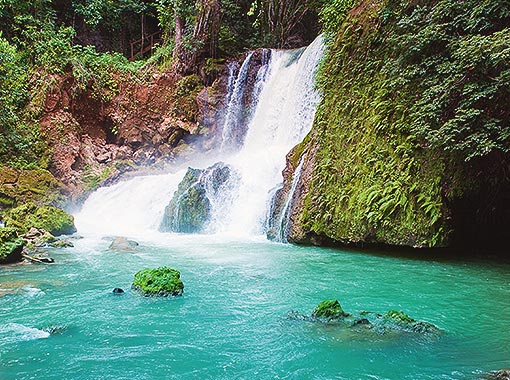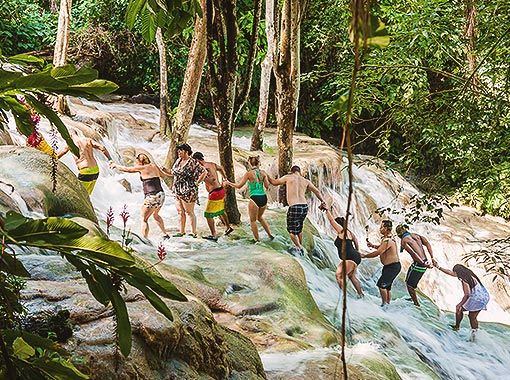 Laughing Waters, Konoko Falls and Turtle River Falls & Gardens
Laughing Waters

Just west of Dunn's River Falls is the majestic Laughing Waters Falls, which empties out into the Caribbean, creating perhaps the most picturesque setting in Jamaica. Rolling hills and a quaint if not unforgettable waterfall reaches out and touches the Caribbean in a scene made for the movies. Maybe that's why the makers of Dr. No used it as a backdrop to one of the most memorable scenes in movie history – Ursula Andress emerging from the Caribbean to meet Sean Connery's James Bond.

How to get there: Head toward Dunn's River Falls on the A3 from Ocho Rios, but keep going for an additional 5 minutes via cab and you'll arrive at Laughing Waters. It is located on a private estate that is sometimes rented out and inaccessible, so call ahead of time to make arrangements.

Konoko Falls

Perhaps more picturesque than Dunn's River Falls, if not smaller, Konoko Falls provides another opportunity to climb a waterfall and take a dip in any of the several pools that form along its way. It's not difficult to understand why the island's original inhabitants, the Taino Indians, chose the magical spot to establish a settlement there. The property, known by some as Coyaba River Garden, also has a serene botanical garden with clear ponds with koi carp and tilapia, as well as a mini-zoo with parrots, owls, and doves.

How to get there: Nestled in the hills of St. Ann overlooking Ocho Rios to the south, Konoko Falls is barely two miles from the center of town. The park will arrange transportation for visitors for a small fee.

Turtle River Falls and Gardens

Just a stone's throw away from the Moon Palace Jamaica Grande and the center of Ocho Rios, Turtle River Falls and Gardens expands over a 15-acre hillside and boasts 14 cascading waterfalls on the Turtle River. There is also a large aviary, ponds with the requisite Japanese Koi, a gift shop, and a man-made pool for a change. Just as with many other Ocho Rios waterfalls you can climb the waterfalls but you can also walk alongside them on steps if you prefer a more secure ascent.

How to get there: Within Ocho Rios proper, Turtle River Falls and Gardens is less than a mile from town center and can be reached via tours and cabs. And for those feeling adventurous, it's only a 15-minute walk from the center of town.