The Best Things To Do

In Cozumel

If you're visiting Cozumel, odds are you'll go home with a lifetime of spectacular memories and a new understanding of what relaxation really is. Known by many as having a "Mexican heart with a Caribbean soul," Cozumel is ripe with dazzling scenery and pristine shoreline. Read on to discover some of the highlights you'll experience on your first excursion to this unique island.
Cozumel is filled with parks and plazas, which makes it perfect for exploring or simply strolling around aimlessly.
From Ferry to Promenade
Ferry From Playa del Carmen

Ferries depart from Playa del Carmen to Cozumel every hour. The average trip lasts about 35 minutes. If you are prone to getting sea sick, make sure to take preventative measures before boarding to ensure comfort for the entirety of the ride.

Pictures on the Promenade

Once you get off the ferry, stroll down the pier to the promenade. It's perfect for taking in the sights and sounds of Cozumel. Don't forget to bring your camera, you'll want to capture this first adventure!
Mayans in Focus
The Island Museum

Pop into the island museum to get a crash course in the history of the island. You'll discover the intriguing stories of its Mayan origins, all the way through its discovery and settlement by Spanish explorers. Particularly interesting is the exhibition and discussion of Cozumel's contemporary art scene.

Explore Mayan Ruins

On the undeveloped north side of the island you will find San Gervasio, the popular site of Mayan ruins which date back some 2,000 years. The biggest and only official archaeological site of the island, it is also a sanctuary to Ixchel, the goddess of fertility and love.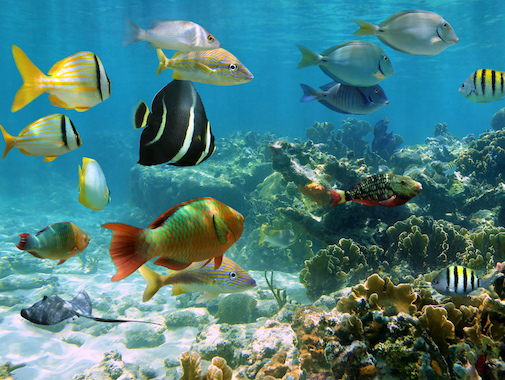 Green and Blue
Plenty of Plazas and Parks

Cozumel is filled with parks and plazas, which makes it perfect for exploring or simply strolling around aimlessly. If you enjoy live entertainment, you will be happy to learn that concerts occur frequently. You may just may be lucky enough to catch one!

Jump in the Deep Blue Sea

Whether you opt to take a dive at one of the countless world-famous dive sites around the island or decide to have a quick snorkel session directly in front of your resort like -- at Cozumel Palace -- Cozumel is certainly not lacking in variety. With something for everyone, you're sure to have a memorable aquatic experience and may even make some new saltwater friends.