The 7 Best Ways to

Get Around in Cancun

You already know that Cancun and the Riviera Maya are among the most popular tourist destinations in the world with one great attraction, landmark, or stretch of sandy beach after another. What is less obvious, however, is how to get to those particular spots after landing at Cancun International Airport.

Luckily, there is an array of ways you can move around and explore to your heart's content, largely dependent on your plans for the day. Here are some quick tips that you should take into account whenever you leave the confines of your resort:
Most buses and shuttles around the Zona Hotelera and Downtown follow two main routes that hit all the convenient shopping malls, hotels, hospitals, restaurants, beaches, and public plazas.
Cabs and Apps
Taxis and Uber

These two camps have been at odds in Cancun for the better part of last year, and even though Uber has managed to maintain operations and provide decent service all around the area, there's still acrimony from local cab services.

The knock on taking local taxis is the same as in most resort towns: expensive with spotty service if the drivers are not tied to any hotel. Keep in mind that cab drivers must feature their permits in a highly visible location. Always crosscheck license plate numbers against permits.

Ask for assistance at your hotel's front desk to schedule pickups, and if you are staying at Palace Resorts and take a cab from there, make sure to take your driver's information so you can make arrangements for your return trip.

Fares from the airport to the hotels are around $40-50, rides between the Zona Hotelera and Downtown go for $10-15 each way, and taxis in El Centro charge about $1.50 per ride, but always bring Mexican pesos with you (they won't provide change if you pay in U.S. dollars).

Riding the Bus and Going for a Drive
Buses

By far one of the best deals, catching the bus in Cancun is an increasingly popular way of getting around in Cancun especially since they started renewing the fleet about three years ago.

Most buses and shuttles around the Zona Hotelera and Downtown follow two main routes that hit all the convenient shopping malls, hotels, hospitals, restaurants, beaches, and public plazas. Many of them have AC and Wi-Fi, rides are about $1 (again: bring your pesos) and are considered quite safe. Buses are a great way to move from one Palace Resorts property in the hotel zone to another, as there are stops directly in front of Sun Palace, Le Blanc Spa Resort, and Beach Palace.

Rental cars

You might want to splurge for a car of your own if you plan on hitting nearby places like Playa del Carmen, Tulum, or even Isla Mujeres and Cozumel (after jumping on a ferry to reach the islands).

The roads are well maintained in most cases, and parking isn't considered a major issue. Just make sure you observe some common sense rules regarding safety and you'll be OK.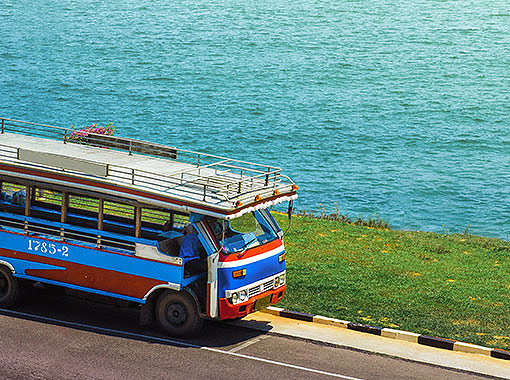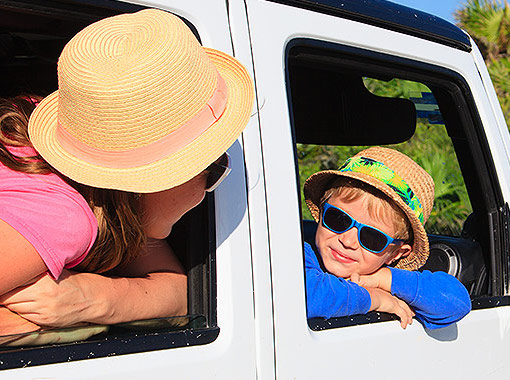 Self Propulsion and More
Bikes

Fitness fans may want to choose the bike as their means of transportation around Cancun, but be advised: driving conditions and heavy traffic might play against you. That being said, there are many rental bike services in the area, and many of them offer delivery and pick up service right at your resort, with daily fees around the $10-15 range, and they'll provide you with a helmet in case you didn't bring your own. Palace Resorts guests can rent bikes at no extra cost.

Negotiating the Zona Hotelera is a real cinch, since the convenient road markers (remember Mexico uses kilometers, not miles) are the common reference everyone uses when asking for directions. El Centro is a different story and can sometimes be a bit chaotic for bike users, but the streets are laid out in a simple grid that poses no real problems if you're the least bit handy with a map or GPS.

The best time to get your bike on is a day trip to Isla Mujeres or Cozumel – it's not coincidence that Ironman Cozumel is among the more popular events on the latter.

Scooters

Same rules as for the cyclists: There are many reputable rental services, but try to map out the areas you'll be visiting and ask around for updates on driving conditions, heavy traffic hours, or public works that may affect your schedule. Mopeds and scooters are mostly OK for the Zona Hotelera, but they might be a hassle elsewhere.

Other options

There are plenty of alternatives for getting around Cancun and the Riviera Maya, including private car services, passenger vans or buses from your resort, and even golf cart rentals on Isla Mujeres and within some of the larger resorts. At The Grand at Moon Palace Cancun, for instance, you'll see a veritable army of golf carts taking guests from their rooms to the main resort buildings.

In the end, it doesn't matter if you're the type of person that likes to be driven around or if you favor the "local explorer" way: This destination will adjust to your needs and preferences. Safe travels!