Don't Lose Your Beach Body

at the Beach: Stay Fit on Vacation

Keeping Beach Body You Worked So Hard to Get
By Crystal McCormick
Vacation is an ideal time to relax and escape from the daily hustle and bustle of life, especially while on the beach with a frozen cocktail in your hand. But when we're in full-blown vacay mode, it's pretty easy to throw caution to the wind by throwing back one too many cocktails or extravagant and calorically excessive meals.

When it comes to diet and exercise, it's easy to get a bad case of health amnesia – and too often, our waistlines pay the price.

The good news is there are plenty of calorie-burning (and fun) ways you can keep your beach bod in shape during and after your vacation.

From jogging on the sandy beaches to kayaking through nature, here are a few ways to incorporate exercise while vacationing in a tropical paradise.
Finding ways to sneak in fitness on your vacation can be way more fun than exercising at home thanks to a variety of hotel wellness programs and increasingly, fitness-focused activities where you'll hardly even notice you are being healthy in the first place.
Barefoot Beachside Jog
What better way to enjoy the beautiful tropical mornings of your vacation than heading to the beach for a barefoot jog? Not only is it a more effective workout than running on pavement (the sand causes your feet to sink and your stabilizing muscles to work harder), but it is also the perfect way to take in the sights and sounds of your beachside destination.

Running on sand also offers a great way to work out little-used muscles and has a lower risk for impact injuries, according to Shape Magazine.

Surf's Up

Catching waves is not just a fun vacation activity; it's also a major calorie burner. Surfing can burn around 200 calories an hour, and gives your shoulders, back, and core a major workout. You don't have to be a seasoned surfer to reap the benefits, either.

At Moon Palace Jamaica, The Grand at Moon Palace Cancun, and Moon Palace Cancun, you can jump on the FlowRider Double Wave Simulator and learn what it's like to tame the surf like a pro. Fun for all ages, the FlowRider simulates two lanes of perfect endless waves, offering hours of surfing excitement (and exercise).

Float for Fun and Fitness
Get Paddling

Working out in the water is one of the best ways to get your heart rate pumping, work muscles, and burn fat – so it makes perfect sense that stand up paddle boarding (SUP) is one of the hottest water workouts right now.

Paddling works your biceps, triceps, shoulders, and upper back and can burn around 200 calories per session - in fact, some experts say that 30 minutes of stand up paddle boarding is equivalent to running six miles. It's also a great way to work on your tan! At both Moon Palace Cancun and Moon Palace Jamaica, free paddle boarding is just one of many active water sports to enjoy while vacationing.

Kayaking Burns Calories

If you want to take in the sights of your tropical vacation while burning calories, kayaking is the way to go. Kayaking is an excellent total body exercise, requiring power from both the torso and legs (which gain strength through isometric tension) to propel the kayak forward.

One study even found that kayaking could burn over 300 calories in just twenty minutes! At Moon Palace Jamaica, you can enjoy a number of water activities, including kayaking out into the Caribbean Sea or taking a kayak tour down the White River.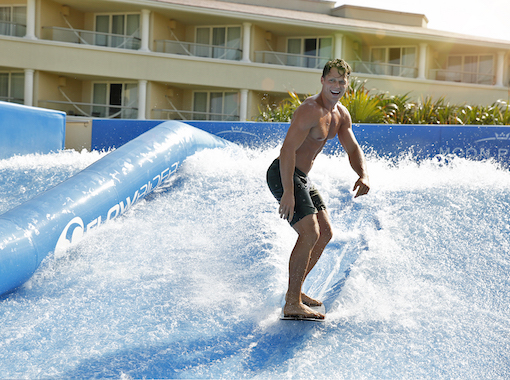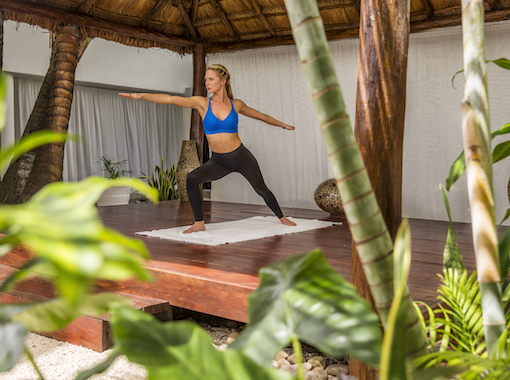 Gyming and Spinning
Hit the Gym

Don't think you can't stick to your day-to-day gym routine just because you're on a tropical holiday. Think again. Most hotels and resorts have gyms, and at all Palace Resorts, they offer fully equipped fitness centers, which include all of your favorite workout equipment and rooms for yoga, pilates, and other classes, not to mention stunning panoramic views beaches and bays.

From smart technology treadmills, elliptical machines and weight lifting equipment to a variety of specialty fitness classes, Palace Resorts has all you need to keep you in bikini (or Speedo!) shape, all the while enjoying a spectacular view.

Aqua Spinning

If you're looking for something new and exciting to burn off that indulgent dinner from the night before, aqua spinning may be for you. One of the newest fitness trends around, aqua spinning combines the benefits of cycling and swimming, meaning a bigger calorie burn.

Each aqua spinning experience offers a stimulating alternative to traditional bicycling and because of the water's natural resistance, you're in for a total cardio workout, say fitness experts. "It's a great workout," physical trainer Ed Hall explained to CBS. "It's fun for people who are serious about fitness — and people who are just curious. The resistance you get from the water and the hydrostatic pressure of the water pressing back against you as you move through it makes it more challenging."

With Moon Palace Cancun's and Le Blanc Spa Resort Cancun's Wellness Suites, guests can participate in aqua spinning classes with a private instructor to ensure they get the most of their water workout.