Day Trip:

8 Hours in Isla Mujeres

Island of Delights
Every morning the sun shines on the Mayan Goddess Ixchel and the ruins of her temple at the southernmost point of Isla Mujeres before it does so anywhere else in Mexico. The ruins are located at Punta Sur, the easternmost point of Mexico, and the morning welcome from the goddess of the moon (think Good Night, Moon!), fertility, and happiness is an auspicious way to start another day for an entire country.

It also makes a great way to start day trip to Isla Mujeres, which should be part of any trip to Cancun and the Riviera Maya. The island is not even five miles long and barely half a mile wide, but it packs a lot of punch in a relatively small landmass, including more than 12,000 inhabitants.

Still, somehow it manages to have both dense, market-filled streets, as well as open spaces and picturesque beaches, rocky coastlines and more.

The history of Isla Mujeres dates back 1,500 years but today the razor thin island that emerges from the Mexican Caribbean just east of Cancun's Hotel Zone is a major attraction, with good reason. Here's what you need to know when visiting.
You'll see everything from palm tree-lined streets, isolated beaches, and quaint neighborhoods that remind you people actually live in this paradise.
Finding the Lady
Getting to Isla Mujeres is easy and affordable with a variety of ferries making the short trek (8 miles, about 15 to 20 minutes) from Cancun every hour. Ultramar operates a variety of ferries from several locations in the Hotel Zone that are quick and fun – there is usually live musical entertainment onboard.

The main ferry terminal on Isla Mujeres deposits visitors in heart of downtown on Avenida Rueda Medina in the northern end of the island. You'll step onto road and join hundreds who are walking in and out of countless shops and restaurants.

Cartography: Getting Around

After taking in downtown Isla Mujeres, grab a map and figure out how you are going to get around the rest of the island. You could simply walk to nearby beaches or across the island if you'd like, but if you want real mobility you can't do better than renting a golf cart (with heavy-duty tires for sometimes rough roadways).

There are plenty of places to get the carts, including securing them on the ferry ride over, and the rates start at about $10 an hour. Though there are cars and taxis, most transportation is done via golf carts, so you'll fit right in. The speed limit is 35 miles an hour, though you'll rarely reach that. Watch out for speed bumps – even on what passes for the island's highways – because if you hit the at speed they will send your cameras and other equipment flying out of the cart.

A Palace, Reefs, and Ruins
Now that you're rolling around Isla Mujeres in style you'll want to head south on Avenida Rueda Medina. You'll see everything from palm tree-lined streets, isolated beaches, and quaint neighborhoods that remind you people actually live in this paradise. You'll eventually get to Hacienda Mundaca, built by a Spanish pirate and slave trader.

From there the road will take you straight to a rotunda and Isla Mujeres Palace. All Palace Resorts guests can stop in for a delicious lunch of ceviche and seafood tacos at La Cevicheria at the resort. Take a dip, go for a quick workout with a paddle board or just enjoy the unbelievable sunsets offered from the beach at Isla Mujeres Palace.

Just south of Isla Mujeres Palace is the Garrafon Natural Reef Park, where you can trek down cliffs into brilliant turquoise waters and an amazing reef. There's everything from zip lines to kayaks, dolphin swims, and more.

You'll barely be back on the road in your golf cart before you are at the entrance to Punta Sur Park, where the ruins of Goddess Ixchel are located. The park costs 30 Mexican pesos to get in (less than $2 USD) but it's well worth it as you'll be able to walk to the easternmost point of Mexico.

There's plenty to see, including modern sculptures along the way, as well as intricately balanced stones that serve as impromptu offerings to ancestors. There are sandy enclaves along the cliffs that are befitting of Hollywood romance scenes but use caution when approaching them to get a view as the drops are intense.

Eventually, you'll make it all the way to the tip of the island and Ixchel's temple ruins. The view is mesmerizing and there is a path that winds down the cliffs to the Caribbean. You can see Cancun in the distance, but the hues of the sea will barely allow you to avert your gaze.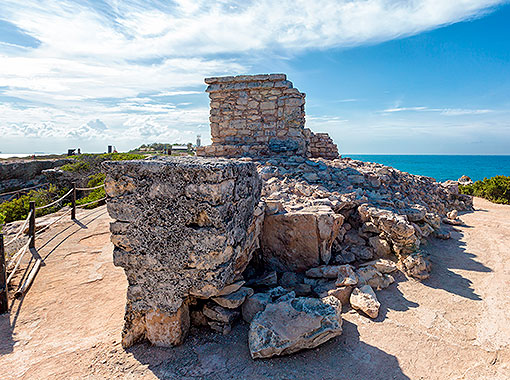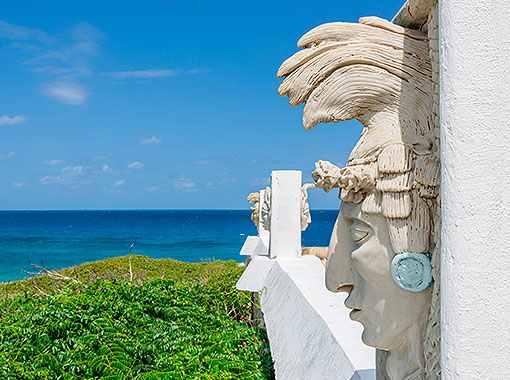 Highway Cruising
It will be hard to top the view at Punta Sur, but a ride along the northeast coast highway (which eventually turns into Payo Obispo Road) will come close. Lavish homes will impress, but the natural beauty of the island and the beach are what is most breathtaking, as is the knowledge that you can stop anywhere along the way and spend an hour or two on the beach.

If you get a chance, take a quick and respectful walk through the Cementerio Municipal La Gloria and take a look at the picturesque mausoleums that afford their eternal residents a glorious view of the sea. If you have your kids in tow, there is quaint and public skate park with maybe the best view ever for such a skate park.

Don't Leave Without Visiting Top Beach

At this point, you'll have seen most of the best Isla Mujeres has to offer – with one big exception. Playa Norte. Named one of the Top 10 Beaches in the World in 2017 by TripAdvisor annual Traveler's Choice awards, the beach doesn't disappoint.

Park your golf cart, take off your sandals, and step into soft sand and into the crystalline waters filled with fish. It's the perfect way to end your trip, relaxing and taking in the beauty of Isla Mujeres.